Créez vos propres jeux vidéos sur papier à l'aide de feutres de couleurs. Grâce à un langage basé sur les couleurs et les formes, dessinez et pressez "scan"… Magie ! Vos traits rebondissent, deviennent langage, et prennent vie devant vous en direct. Jouez à plusieurs autour d'une table Papertronics tout en imaginant des mondes visuels et interactifs délirants !
Create your own video games on paper using colored markers. Thanks to a language based on colors and shapes, you can simply draw and press "scan"… magic! The game features you draw will come to life in front of you in real time. Play together around a Papertronics table while imagining delirious visual and interactive worlds!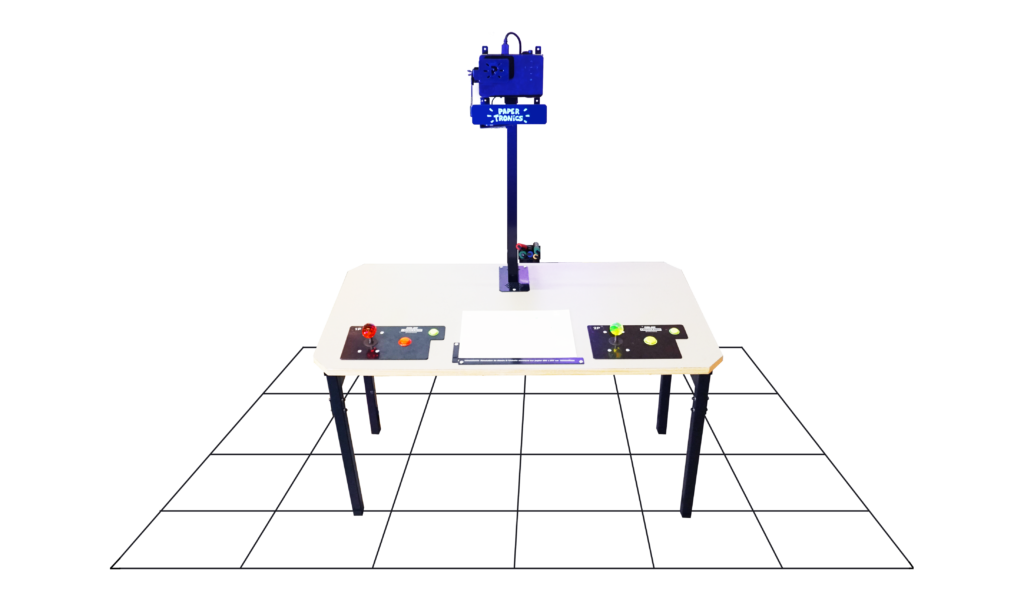 Et voici la table Papertronics toute intégrée avec 3 jeux interchangeables. Vous pourrez ainsi donner vie à vos dessins avec Caveman Animator, concevoir des Game & Watch au pinceau avec Micro Game fatory, ou encore esquisser les décors d'un shooter arcade 2 players avec Color Commando.
Shown here is the integrated Papertronics table with 3 interchangeable games, perfect for groups. You will be able to bring your drawings to life with Caveman Animator, design a Game & Watch experience using Micro Game Factory, or even sketch the environments for a 2-player arcade-style shooter with Color Commando.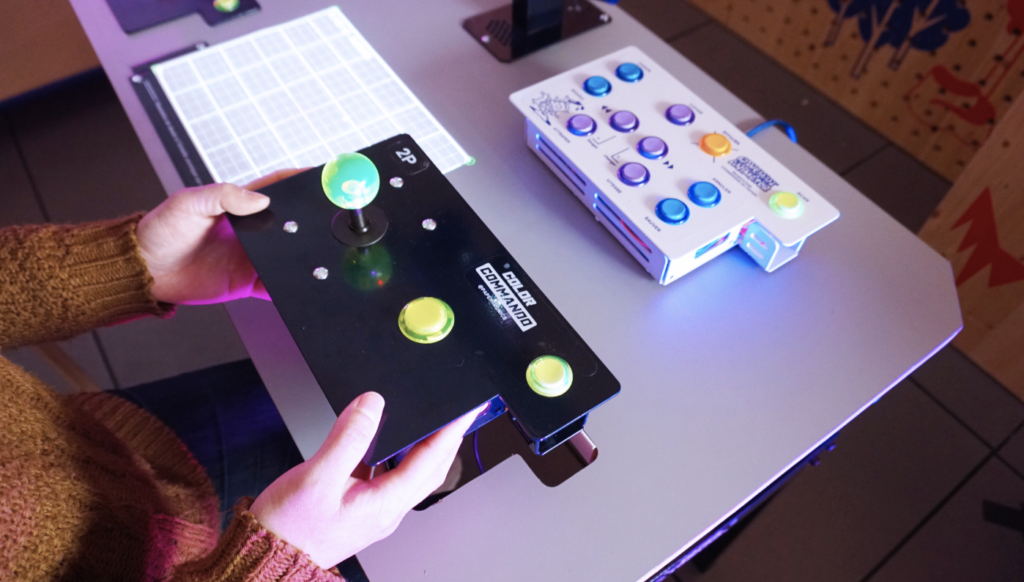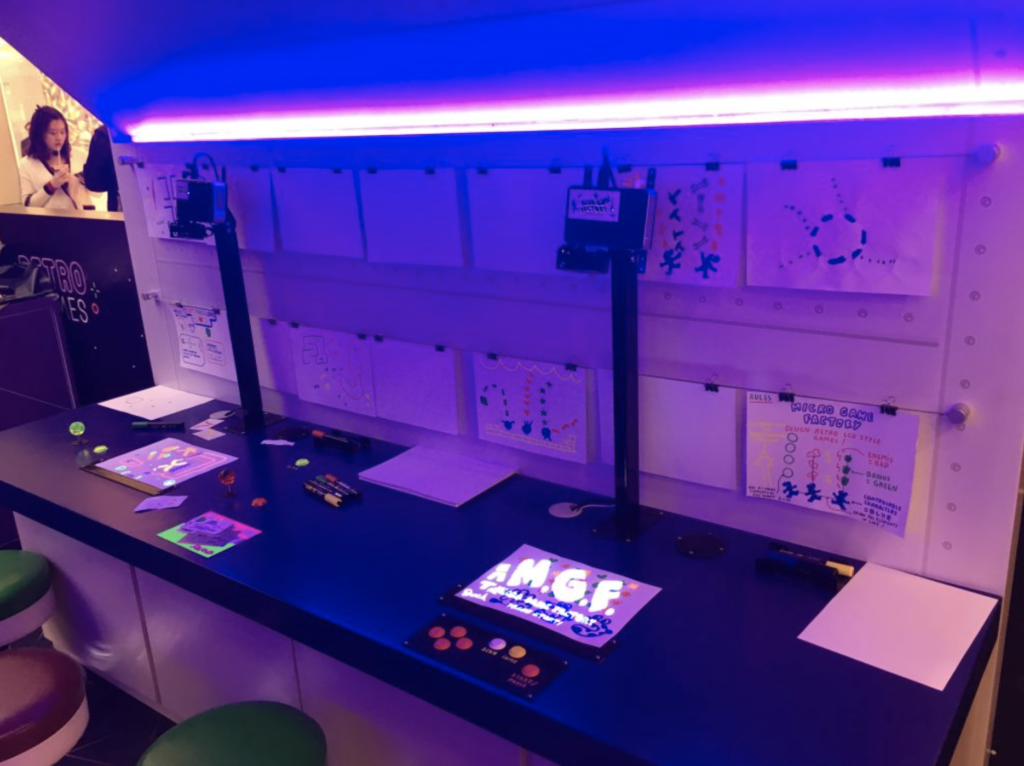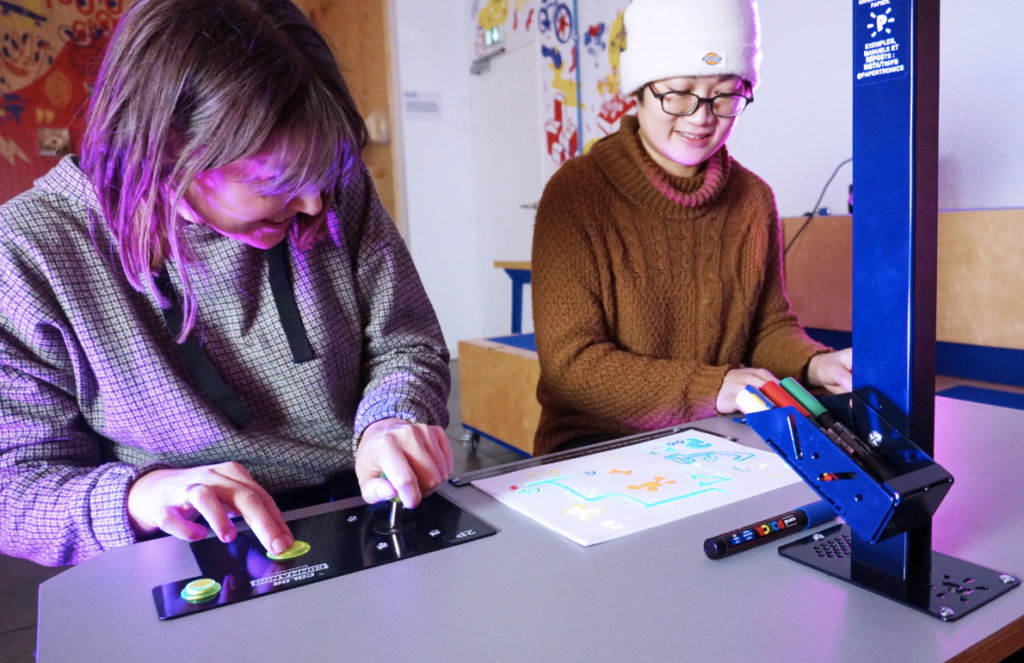 Papertronics est un projet initié par les artistes Jérémie Cortial et Roman Milétitch en 2013. Il explore les possibilités d'interactions avec le monde physique et les humains autour de ses disposifs. Grâce à son approche créative exceptionnelle, Papertronics permet d'enseigner le gamedesign à des enfants autant qu'à des professionnels, en utilisant des feutres, du scotch, ou des objets colorés, sans jamais toucher un écran. Désintoxication visuelle maximale pour comprendre en créant soit-même des mécaniques de jeu, des narrations, des animations, des images funs et efficaces.
Papertronics is a project initiated by artists Jérémie Cortial and Roman Miletitch in 2013. It explores the possibilities of interactions with the physical world and humans around its devices. Thanks to an innovative creative approach, Papertronics makes it possible to teach game design to children as well as to professionals using only markers, tape, objects and collage – without ever touching a screen. Visitors will be in the best conditions to create their own game mechanics, interactions, and animations, using only fun and bright imagery.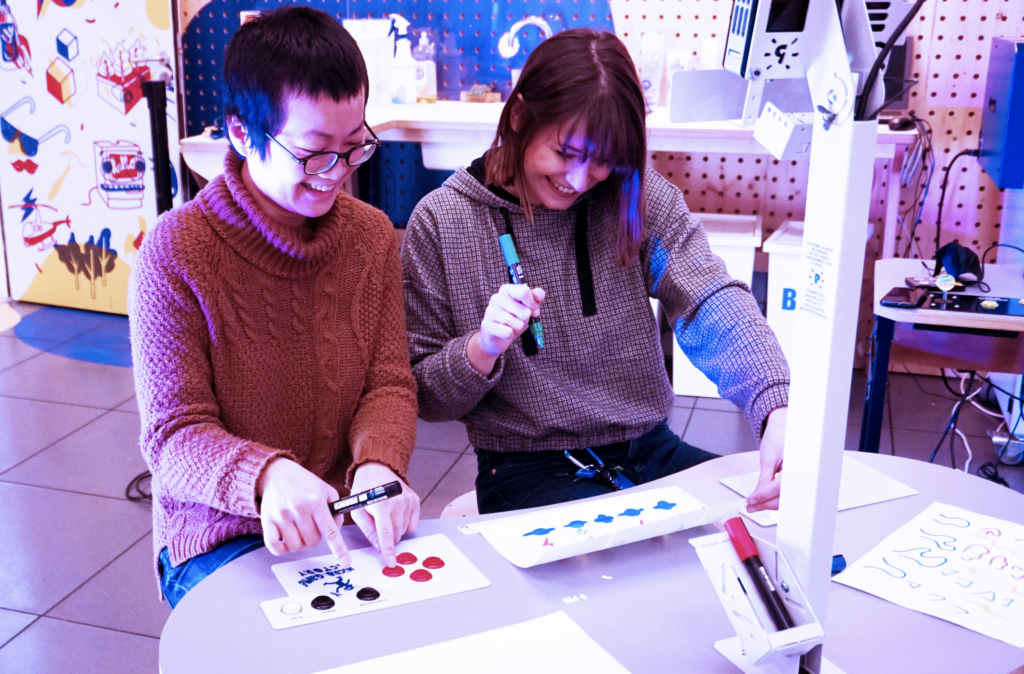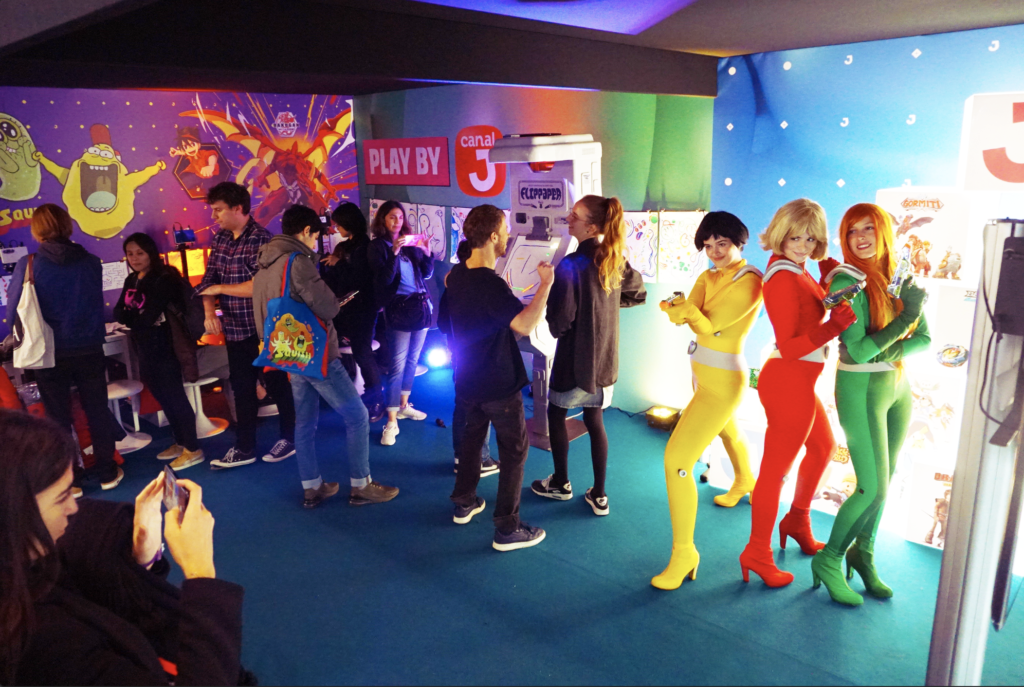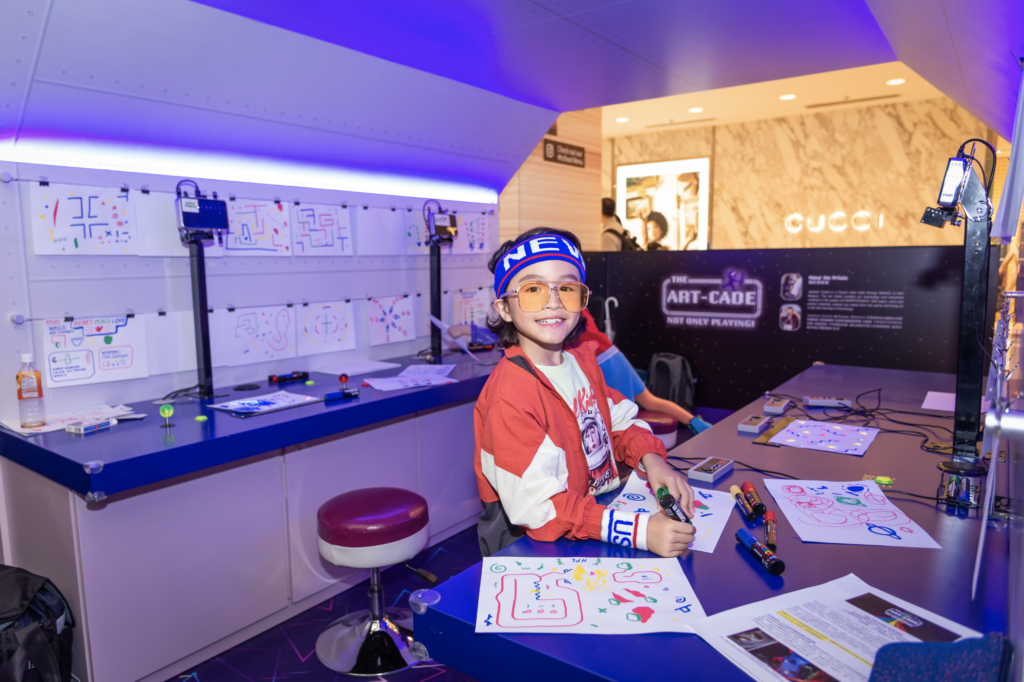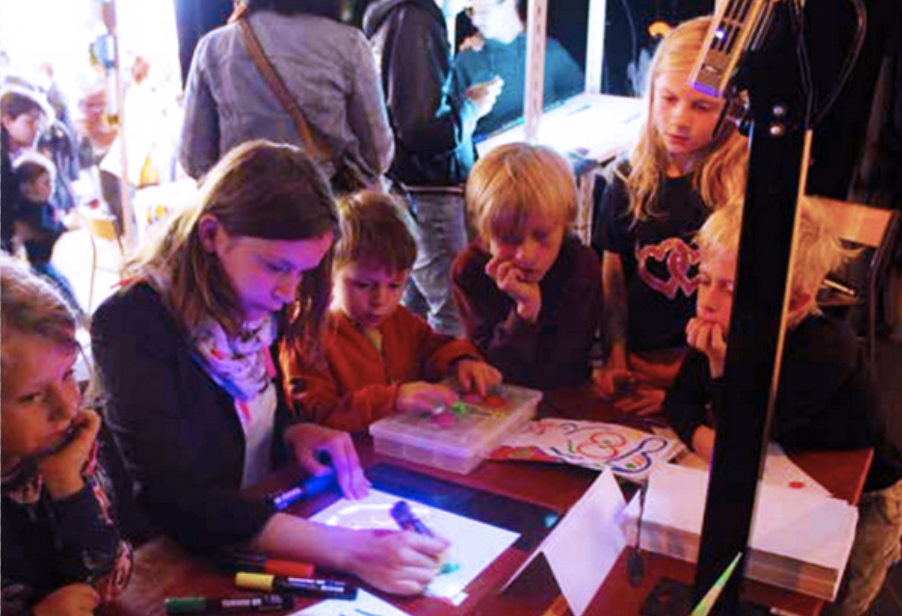 Les installs Papertronics peuvent se décliner en expositions interactives en associant plusieurs pièces, ou en s'intégrant dans une scénographie comme pour the "Art Cade – not only playing" à Hong Kong ou "Cosmushi", pour Digital Choc 2018 "Space ship Earth" à l'institut Français de Tokyo.
Papertronics installations can be showns in interactive exhibitions with several games integrating into a scenography like "Art Cade – not only playing" in Hong Kong or "Cosmushi", for Digital Chok 2018 "Space ship Earth" at the Tokyo French Institute.

2022 – Quai des savoirs Toulouse, Toulouse
2021 – Workshop, festival lumière sur les Quais, Toulouse
2019 – LvLUP! Mvvuseum, Tallin
2019 – Event at BNP Cardif, Amsterdam
2018 – Canal, Comicon, Paris
2018 – Harbour City, Hong Kong
2018 – Cosmushi,IFJ Tokyo
2017 – Roman Miletitch's Forest, Fost, NY
2017 – The Last Okonomiyaki Island, Nantes Food Forum, Nantes
2017 – Workshop at HEAR, Strasbourg
2017 – Gamers Assembly with Le Lieu Multiple, Poitiers
2017 – Eniarof, Tunis