Nourrie de fantasmes futuristes et portée par les médias, la VR reste avant tout une expérience sensorielle magique, qui ne peut être vécue qu'à la première personne. Aucun réel moyen de la transmettre dans son essence. Comme un rêve, il n'en reste ensuite que des souvenirs inaccessibles, des récits hallucinés. C'est en visant cette contradiction que le lab a planché sur un système pour présenter au public un live painting VR, en gardant tout son enchantement.
Nourished by futuristic fantasies and carried by the media, VR remains an absolutely magical experience, which can only be experienced in the first person. There is no real way to convey its essence. Like afer a dream, only remains far memories or strange tales. Our lab has targetted this contradiction to develop a system to show to the public a VR live painting while keeping all its enchantment.
PERFORMANCE
Comsodule, juin 2018. Bienvenue à la première présentation du dessin VR holographique, en direct du labo R&D. Dispositif : un systeme DIY "d'hologramme", visible pour le public sans lunettes, affiche en direct le dessin dans un plan synchronisé avec les gestes de l'holo-peintre (Chienpo), sur une musique de Frank Gérard.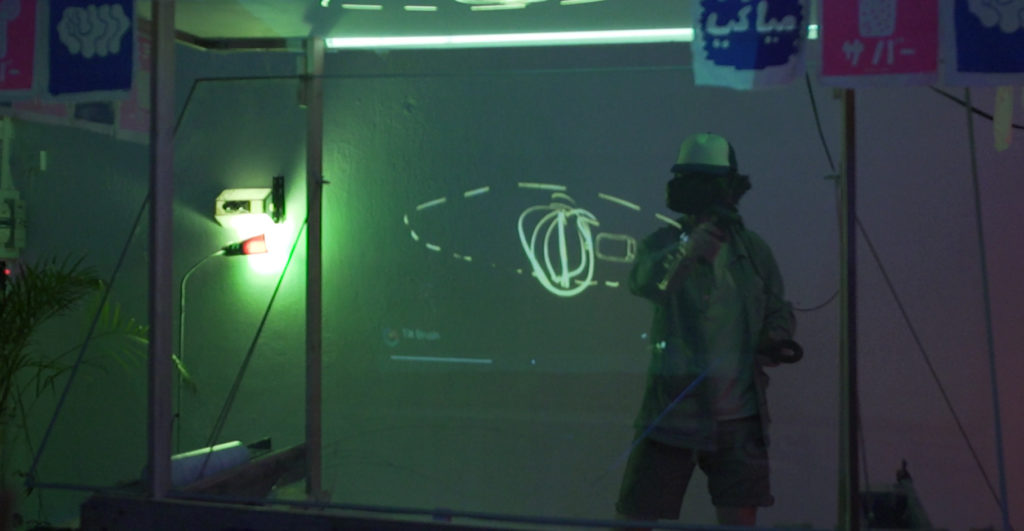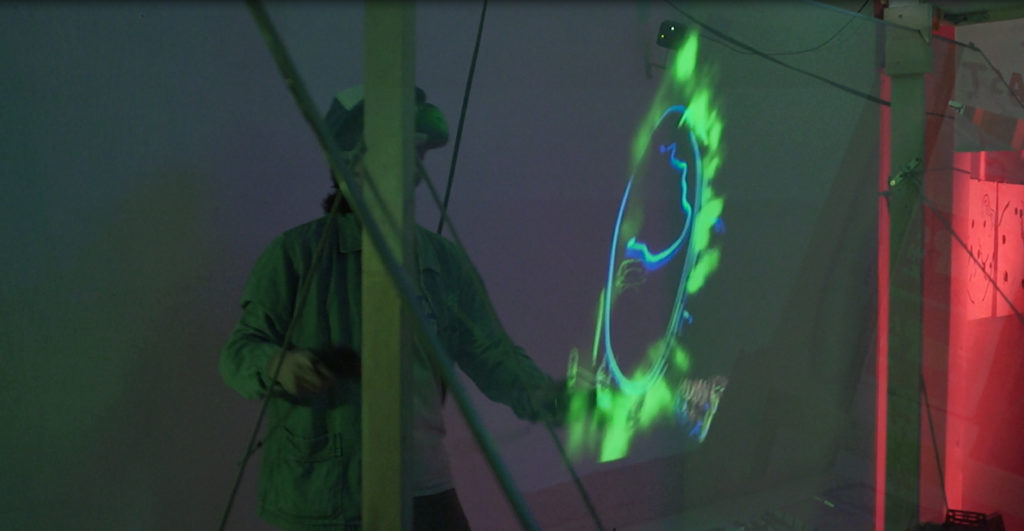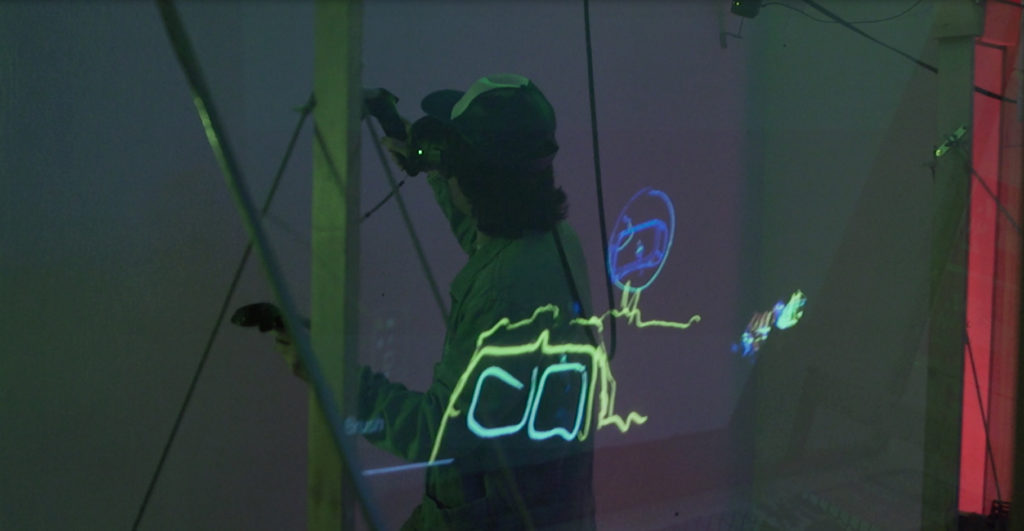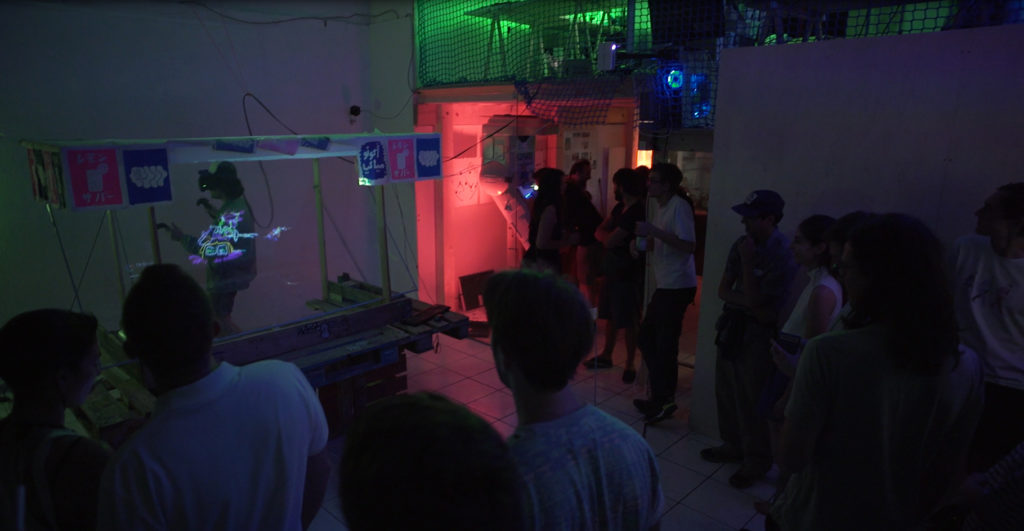 Pour finir les images sont transférées en fin de show sur un écran de sérigraphie, insolées, imprimées afin de délivrer au public quelques posters et T-shirts expérimentaux bien tangibles ramenés des abysses virtuelles.
Finally, the images are transferred onto a screen-print frame, and printed in order to deliver to the public some very tangible experimental posters and T-shirts, brought back from the virtual abyss.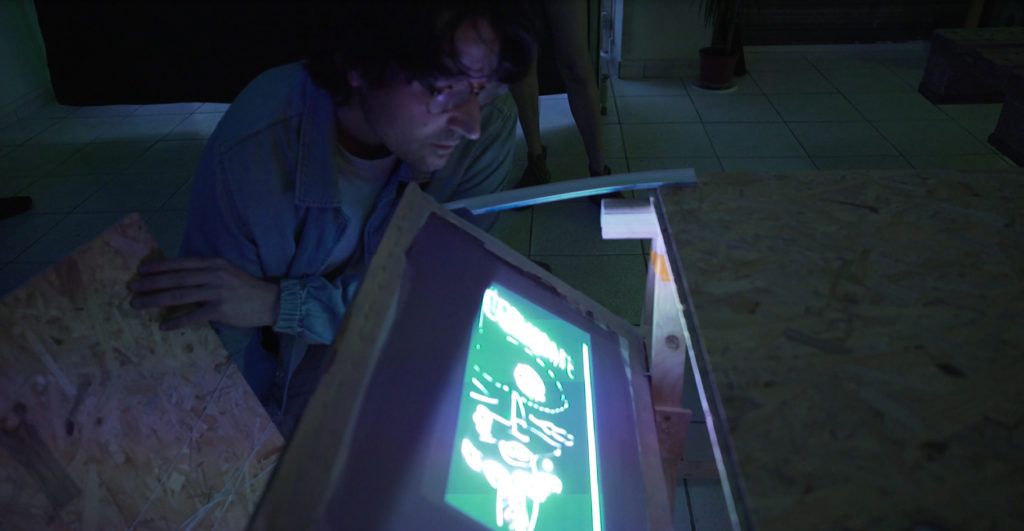 WORKSHOP
Toutes ces possibilités nouvelles font de la VR un médium idéal pour des workshops collectifs et constructifs. Magique, contemplative, elle permet vraiment un voyage initiatique dans création.
Nous avons développé une format d'intervention optimisé pour des ateliers artistiques en médiathèque, festivals, ou events corporates.
All these new possibilities make VR an ideal medium for collective and constructive workshops. Magical, contemplative, it really allows an initiatory journey into creation.
We have developed an optimized intervention format for artistic workshops in media libraries, festivals, or corporate events.
Programme typique :
– Initiation au dessin en réalité virtuelle à tour de rôle, avec retour vidéo
– Sélection des dessins réalisés en direct pour la adapter en sérigraphie
– Atelier d'impression sérigraphique de tote bags ou cartes postales souvenirs
Holo Graffiti by Jérémie Cortial
Type : VR live painting and printing event (fabric, paper or other).
Age/public : any age and public.
Space needs : space for a video projection and VR (simple) / or holographic projection fabric or transparent glass (more complex).